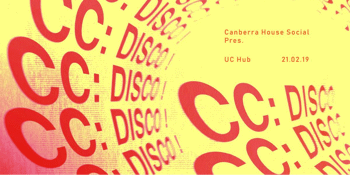 Canberra House Social present
CHS pres. CC:DISCO!
with special guests
Thursday, 21 February 2019 8:00 pm
CHS pres.
CC:DISCO!
UC HUB
THURSDAY 21st FEB
It's true that you don't appreciate what you had until it leaves you (temporarily). It is with great sadness and joy that we announce our last show with
CC:DISCO!
before her move to Europe in 2019.
Obliterate non-dancers with us at the cavernous UC HUB and feel the resonance in your chest thanks to our friends at
Communi-fi Sound
.
EARLY BIRD - $15
GENERAL RELEASE - $20
Local supports
Soul Crane
, LEMN & Moody Boy (UK).